Team up with friends and solve life's problems
You know that stuff that you always moan about down the pub/gym/work? We're here to give you the tools to fix it!
You're Doing Great! enables you to create a community of people who can help you get ideas and make decisions for things when you don't know what to do about them.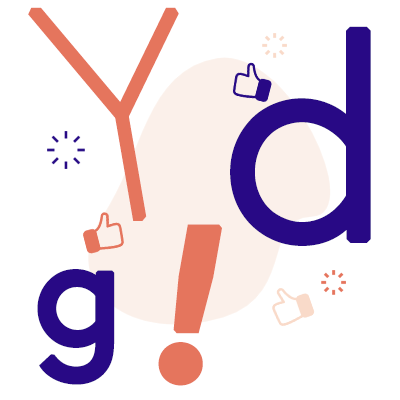 What is You're Doing Great?
We're Anna and Isabelle (Hi! This is Isabelle) and we've been regularly running a sorta life appraisal with our pals. When I went freelance, life without progress checks looked scary.
We thought, 'Why don't we create a one-to-one, like at work, but with our friends?' We've been running them for six years now, and it's proved a really useful forum for us and for others to voice work and life concerns that feel too big or too vulnerable to share in the pub or on Whatsapp.
Some things people have talked about:
Should I go freelance?
How do I deal with my in-laws?
I thought I needed a new job but actually I'm in love with the wrong person
How can I move to New York?
Debilitating crushes that stop you existing
What happens to my business when I have a baby?
All you need to do to start your own You're Doing Great! Day
Some friends - 6-10 people works best
About half a day
We like to use Doodle to set a date
We like to break with a potluck lunch. (A potluck is where everyone brings a dish. We find it useful to set a theme eg: soup and salads and delegate out certain items, like coffee, milk, so you don't end up with 10 pots of hoummous!) Bringing food can help to foster an environment where you all feel united and safe.
What space do I need?
We've been running You're Doing Great! for six years out of a kitchen in a houseshare, it helps to have understanding flatmates. All you need is space for all your invitees and a table is great. We like to run it from someone's home because it helps with creating a relaxed atmosphere. A local park could also work well in the summer.
Can anyone come?
We started out running a women-only group, before expanding it out to be open to other marginalised folks. We've always wanted to make sure it feels like an easy place to voice vulnerabilities and doing that in a safe space is important, so who you invite is up to you!
How to run a You're Doing Great! Day
Your timetable for a You're Doing Great! Day might look like this.
It'll change on the day – you'll want to appoint someone to keep an eye on the time and you can make adjustments for energy levels.
| | |
| --- | --- |
| 10am | Start the day half an hour before you want to actually want to begin, to allow for informal intros and making coffee. |
| 10.30am | This is when the real work starts. The host introduces the day and reiterates the rules: this is a safe space, what happens here stays here, try not to interrupt. |
| 10.35am | Not everyone will know each other, so we usually do a 'check-in' to break the ice: time to introduce yourself and share any nerves, vulnerabilities or big news before individual sessions begin. |
| 10.50am | First session! Someone brave will volunteer to go first. Each person has 30 minutes to talk about their issue and receive help. We have a 'no interruptions' rule while the person shares their issue, when they're done talking, everyone else can begin pitching in with ideas, solutions, advice – anything they think will help. |
| 11.20am | Second session! We don't usually set an agenda in advance – at the start of each session, we ask 'who wants to go next?' – so people don't feel nervous about a timeslot. |
| 11.50am | At this point we'll keep going with sessions until it feels like a good time to break for lunch or have a quick bathroom break. We'll carry on into the afternoon, breaking out the snacks when energy levels dip. Once everyone has had a session, we might have a little debrief in the pub over a few drinks, but if alcohol isn't your thing you could go for a walk in your nearest park. |
What to do if you've been invited
Congratulations! Are you ready to have a fun day of planning goals, helping peers and resolving problems?
Just confirm your attendance by filling out the Doodle, then wait for the big day! We find that 48 hours' notice for cancellations is a good timeframe if you can't make it - leaving it to the last minute means fewer people to share problems with, and can mess up food plans too.
Bring a notepad and pen – you'll want to write down some of the helpful things people suggest – and make or bring some food. Snacks always go down well to help with the afternoon slump!
Feeling apprehensive? Have a look at our testimonials, or watch this cool talk by Brené Brown on the power of vulnerability.

Megan, business owner
"You're Doing Great is invaluable, by following the advice of the group I was able to take the time I needed for my maternity leave and get back to my client work within a few months without stress and anxiety. And the following year the business had its best year ever. Hearing other people's challenges and stories has helped me be bolder in my own life and work. There's nowhere else I can go for the kind of help I get at YDG."

Anne-Marie, publisher
"I shared a major work worry at my first You're Doing Great. By the end I was feeling inspired and was full of ideas and optimism and the path forward seemed a lot clearer (and I actually acted on the advice I received!) Everyone who needs one should have an objective forum in which to explore professional and personal dilemmas. You're never alone at YDG, it's a reminder that we all have anxieties and that it helps to share them."

Kima, content director
"You're Doing Great helped me achieve focus, I would have to really think about what project or goal I wanted to unpack and the time spent talking through things made it so much more tangible and achievable. It felt like a safe space in which I could talk about anything. It was also a place where I learned a lot from working through other people's goals. It adds a layer of intention to the mix and gives a framework to the types of conversations you have with your friends that results in really actionable steps."
Want to find out more?
In the future we might do exciting stuff. If you'd like to know about it, sign up!